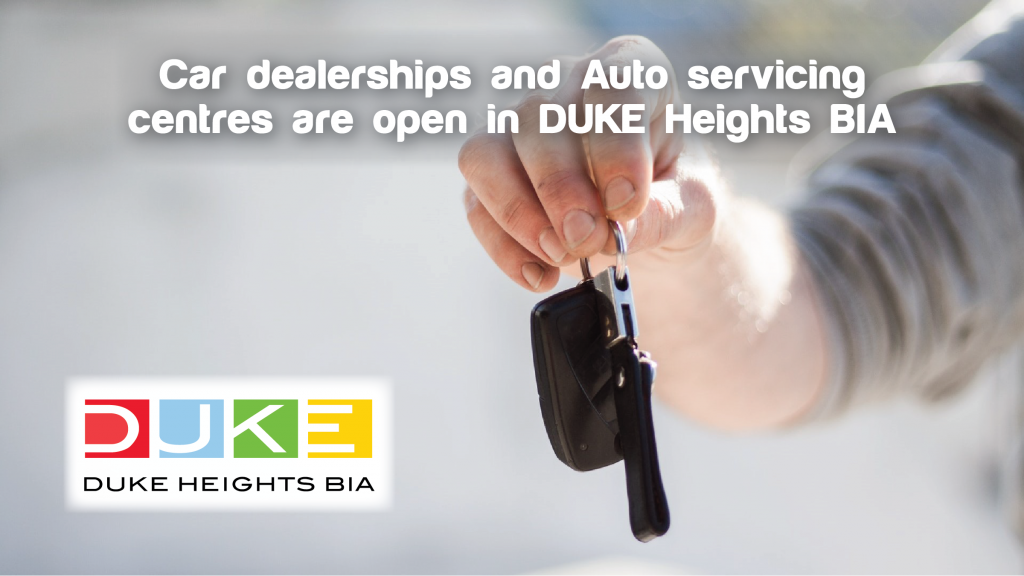 Car dealerships have started to re-open with COVID-19 restrictions in place. Automotive maintenance and repair services are also available in our area.
Sales are now open by appointment only while they comply with the mandatory safety rules advised by the province.
Before you visit, please call them to schedule an appointment.
---
Car Dealers & Service Centres

---

Contact Information

---

Auto Gallery
Address: 155 Champagne Dr., Unit: 7, Ph: 4166330000, Website: https://www.autogalleryinc.ca/
Toronto Auto Collision
Address: 375 Champagne Dr., Unit: 3,4, Ph: 4164778727
Lestar Autoworks Inc.
Address: 101 Toro Rd., Unit: 51, Ph: 4166350815
Ultimate Wheels 2U
Address: 101 Toro Rd., Unit: 12, Ph: 6472930770, Website: www.ultimatewheels2u.com
Affordable Auto Security & Sound
Address: 496 Champagne Dr. , Ph: 4168258424
Pro-touch Auto Centre
Address: 5 Tangiers Rd., Ph: 9056690980, Website: https://protouchautocentre.com/
Hardick Spring Service Ltd
Address: 7 Tangiers Rd., Ph: 4166301172, Website: https://www.hardickspringservice.com/
Favorit Motors
Address: 100 Toro Rd., Ph: 4168254446, Website: www.favoritmotorscanada.ca
SPH Auto Parts
Address: 58 Toro Rd., Ph: 4166383000
Shiraz Auto Center Inc
Address: 47 Toro Rd., Ph: 4163985599
Jasmin Company Limited
Address: 41 Toro Rd., Ph: 4166040124
Sun Auto Inc
Address: 21 Toro Rd., Ph: 4163981383, Website: www.sunautosales.ca
SimplyTire Inc
Address: 14 Toro Rd., Unit: 0, 14, Ph: 4169169233, Website: www.simplytire.com
Dani's Auto Group
Address: 5 St. Regis Cres. N, Unit: 1 to 4, Ph: 4166303311, Website: www.danisautogroup.com
P.T.S Tire Shops Inc
Address: 9 Tangiers Rd., Ph: 4166359113, Website: www.ptstreshops.com
Modena
Address: 5 St. Regis Cres., Unit: 5, Ph: 6477030431, Website: https://modenafinecars.camsdealer.ca/
ABS Auto Repair
Address: 44 St. Regis Cres., Ph: 4167205593
Fine Cars Motors
Address: 1290 Finch Ave W., Unit: 20, Ph: 4167369870, Website: www.finecarsmotors.com
RTA Electric Motors
Address: 100 St. Regis Cres. N, Unit: 1,2, Ph: 4166369546, Website: https://rtaelectric.com
SEM Motosports
Address: 130 Lepage Ct., Unit: 16, Ph: 4166367575, Website: semmotorsports.com
ASAD Mufflers & Mechanical
Address: 12 Lepage Ct., Unit: 4, Ph: 4163987333
Nida Auto Services
Address: 12 Lepage Ct., Unit: 7,8, Ph: 4167312920, Website: https://nida-auto.business.site/
Top Japanese Auto Parts-TJP
Address: 75 Ashwarren Rd., Ph: 4166310022, Website: http://www.topjapaneseautoparts.ca
European Autobauds Toronto
Address: 162 Limestone Cres, Ph: 6479968555, Website: https://www.europeanautohaustoronto.com/
A-ONE Autobody
Address: 144 Limestone Cres., Ph: 4169160310, Website: https://aoneautobody.business.site/
Dascan Industrial Controls
Address: 300 Wildcat Rd., Ph: 4166651511, Website: http://dascan.com/
Topnotch Auto Sales
Address: 3891 Keele St., Ph: 4168797113, Website: https://www.tnautosales.ca/
K.M.S Fine Car Inc
Address: 3895 Keele St., Ph: 4166369434, Website: www.kmsfinecars.com
Lucky Auto Electric
Address: 145 Limestone Cres. , Ph: 4167390993
Top-Line Auto Body Parts
Address: 163 Limestone Cres., Ph: 4166657077
Uptown Auto
Address: 172-174 Limestone Cres., Ph: 4167623333, Website: www.uptownautomotive.net
A.Z Auto
Address: 166 Limestone Cres., Ph: 4166671212, Website: www.azautocanada.ca
TINA Hand Car Wash
Address: 2899 Steeles Ave W., Unit: 11, Ph: 6475605588, Website: www.thcarwash.com
Discount Tires & Auto Glass
Address: 2899 Steeles Ave W., Unit: 13, Ph: 4166500025, Website: https://discount-tires-and-auto-glass.business.site/
F&D Automotive Services
Address: 2899 Steeles Ave W., Unit: 29, Ph: 9056692211, Website: www.fdautomotive.com
Manila Auto Repair
Address: 2901 Steeles Ave W., Unit: 3, Ph: 4162446343
Bodylines Auto Collision Ltd
Address: 121 Brisbane Rd., Unit: 2, Ph: 4167398838, Website: www.bodylinescsn.com
Glennalan Motors Ltd
Address: 65 Brisbane Rd., Ph: 4166656230, Website: http://www.glennalanmotors.com/
Midas Auto Systems Expert
Address: 3771 Keele St., Ph: 4166303572, Website: www.3771keelestreet.torontomidas.com
Hudson's Fine Cars
Address: 3712 Keele St., Unit: 15-16, Ph: 4166361661, Website: http://www.hudsonsfinecars.com/
Montero Auto Centre
Address: 3715 Keele St., Unit: 20, Ph: 4166651940, Website: https://www.monteroauto.com
Exclusive Fine Cars Inc
Address: 908 Magnetic Dr., Ph: 4166632010, Website: www.aryafinemotors.com
I.L. Auto Repairs
Address: 4465 Chesswood Dr., Ph: 4166306668
Leon's Autobody
Address: 9 Vanley Cres., Ph: 4166368639, Website: http://www.leonsautobody.com
Eighty 8 Alpha Automotive Inc.
Address: 70 Vanley Cres., Ph: 4163981975, Website: www.eighty8automotive.ca
Superior Tire Auto
Address: 4300 Dufferin St., Ph: 4166359967, Website: www.superiortire.ca
Canadian Tire
Address: 4400 Dufferin St., Unit: 1, Ph: 4166679777, Website: https://www.canadiantire.ca/
Enterprise Rent-A-Car Canada Company
Address: 4700 Dufferin St., Unit: 4, Ph: 4166632211, Website: http://www.enterprise.ca
Autopro Mechanical
Address: 86 Martin Ross Ave., Ph: 4166658974
Martin Ross Auto Collision
Address: 86 Martin Ross Ave., Ph: 4166651427
Maaco Collision Repair & Auto Painting
Address: 1100 Finch Ave W., Unit: 11A, Ph: 4166505588, Website: https://www.maaco.ca/locations/on/
Sun Shine Auto
Address: 1100 Finch Ave W., Unit: 203, Ph: 4167367058
Ken's Auto Body Centre
Address: 1100 Finch Ave W., Unit: 204, Ph: 4166634184
Malibu Motors
Address: 1100 Finch Ave W., Unit: 11D, Ph: 4166616623, Website: www.malibumotors.ca
The Collection of Fine Cars
Address: 1100 Finch Ave W., Unit: 1, Ph: 4166670453, Website: www.collectionfinecars.com
Auto Rover Inc
Address: 4521 Chesswood Dr., Ph: 4166543413, Website: www.autorovertoronto.ca
Motorhead Speed Shop
Address: 4610 Dufferin St., Unit: 16B, Ph: 6478604717, Website: https://motorheadspeedshop.com/
Adagio Valet Service
Address: 5 Rimrock Rd., Unit: 1, Ph: 4168000454, Website: www.adagiovalet.ca
Toronto Drive-Away
Address: 265 Rimrock Rd., Unit: 1, Ph: 4162257754, Website: www.torontodriveaway.com
Sorenca Auto Service
Address: 4520 Chesswood Dr., Ph: 6479979633, Website: www.sorenca.ca
Havakar Auto Group
Address: 4077 Chesswood Dr., Ph: 4167871718, Website: http://www.havakar.com
MG Moto Auto
Address: 4230 Chesswood Dr. Unit: 1, Ph: 4165181256
International Auto Body Repair
Address: 4240 Chesswood Dr. , Ph: 4163988516
Downsview Chrysler
Address: 199 Rimrock Rd., Ph: 4166351660, Website: www.downsviewchrysler.ca
Ari Motors Ltd
Address: 4256 Chesswood Dr., Unit: 3, Ph: 4166365456
Rashid Motors
Address: 4246 Chesswood Dr., Ph: 4163985877
Han Minh Machine Works Ltd
Address: 1100 Lodestar Rd., Unit: 5, Ph: 4166360660
Toronto Auto Mall
Address: 1170 Sheppard Ave W., Unit: 36-38, Ph: 6477485755, Website: www.torontoautomall.ca
Auto Master Trading
Address: 1170 Sheppard Ave W., Unit: 27, Ph: 6474369321
LAM Auto Services
Address: 1170 Sheppard Ave W., Unit: 48, Ph: 4166308444
Auto Guyz Tirecraft Auto Centre
Address: 1185 Finch Ave W., Ph: 4166619300, Website: www.tirecraft.com
Bell Auto
Address: 1127 Sheppard Ave W., Ph: 4167368880, Website: http://www.bellauto.ca
Autorama Quality Pre-Owned Vehicles
Address: 1205 Sheppard Ave W., Unit: 1, Ph: 4167397262, Website: https://www.autorama.ca
Nexcar
Address: 1235 Sheppard Ave W., Ph: 4166338188, Website: https://www.nexcar.ca/
Carstar Collision & Glass Service
Address: 1221 Sheppard Ave W., Ph: 4166335652, Website: http://www.carstar.ca
IQ Motors
Address: 1111 Finch Ave W., Unit: 45, Ph: 9055814240, Website: www.iqmotors.ca
Auto Sport Motors
Address: 1101 Finch Ave W., Unit: 6, Ph: 4167369609
Good Tech Auto Centre
Address: 1100 Finch Ave W., Unit: 206/207, Ph: 6472088025 / 4168039192, Website: http://goodtechauto.com
Autodom Inc.
Address: 1100 Finch Ave W., Unit: 15, Ph: 4166330600, Website: http://www.autodom.ca
ADAR- Automotive Diagnostic and Repair
Address: 1170 Sheppard Ave W., Unit: 33, Ph: 4166360831
Car Connection Toronto
Address: 19 Vanley Cres., Unit: 2, Ph: 4166714658
Guycan Autobody & Refinish
Address: 173 Limestone Cres., Ph: 4166639945
FinishMaster Automotive & Industrial Paint
Address: 45 Brisbane Rd., Unit: 17, Ph: 4167369578, Website: www.finishmaster.ca
New Champagne Auto Centre
Address: 375 Champagne Dr., Unit: 2, Ph: 4166381255
Frisco Auto parts
Address: 265 Champagne Dr., Ph: 4167369595
GTA Shipping Inc
Address: 25 Toro Rd., Ph: 4165650902
Vision Autobody Repair & Repaint
Address: 51 Toro Rd., Ph: 4166351666
Cost Auto Sales
Address: 101 Toro Rd., Ph: 4166368586
Car Impex
Address: 4490 Chesswood Dr., Unit: 1,2, Ph: 6472987978, Website: http://www.ci.ca
Inka Tires
Address: 175 Limestone Cres. , Ph: 6477843581, Website: https://inkaauto.wordpress.com/
Uptown Auto & Tire
Address: 172 to 174 Limestone Cres., Ph: 4167623333, Website: https://uptown-auto-tire-center.business.site/
Wheel Pro
Address: 45 Brisbane Rd., Unit: 24,25,26, Ph: 4167361455, Website: www.wheelprocanada.ca
Sreia Automotive Inc.
Address: 1540 Lodestar Rd, Unit: Unit 6, Ph: 4163985025
Nortool Automotive Warehousing Inc
Address: 438 Limestone Cres. , Ph: 4166671083, Website: http://www.autoforce.ca
Estyle Automotive Ltd.
Address: 130 Limestone Cres, Ph: 4166613323
HanKook Automotive
Address: 19 Vanley Cres., Unit: Unit 2, Ph: 4163983848
A.H.A. Automotive Design Inc
Address: 11 Vanley Cres., Unit: Unit 2, Ph: 4166338988, Website: http://www.ahalimos.com/home.htm
Black Thorn Automotive
Address: 157 St Regis. S, Unit: Unit 102, Ph: 4167828111
ADAR Automotive diagnostic and Repair
Address: 1170 Sheppard Ave W., Unit: Unit 33, Ph: 4166360831
Ontario Automotive
Address: 1540 Lodestar Rd, Unit: Unit 3, Ph: 4162629922, Website: http://www.ontarioautomotive.ca
CMW Automotive Corporation
Address: 130 Lepage Court, Unit: Unit 21, Ph: 4166388284
Bloh Automotive
Address: 12 Lepage Court, Ph: 4166386111
Aura Automotive Centre
Address: 12 Lepage Court, Unit: Unit 7, Ph: 4166360424
Frontline Automotive Inc.
Address: 4801 Keele St., Unit: Unit 27, Ph: 4167396262, Website: http://www.frontlineautomotive.ca
Showcase Automotive Inc.
Address: 149 Dolomite Drive, Ph: 4166637666
Tire Connections Automotive Speedline Repair
Address: 4361 Chesswood Drive, Ph: 6473426868, Website: http://www.tireconnections.com
BMC Automotive
Address: 45  Brisbane Road, Unit: Unit 3, Ph: 4166677544
Technique Automotive
Address: 73 Alness Street, Unit: Unit 9, Ph: 6477878444, Website: http://techniqueautomotive.com
The Automotive Group
Address: 37 Kodiak Crescent, Unit: Unit 5, Ph: 4163988000, Website: http://www.theautomotivegroup.net
---