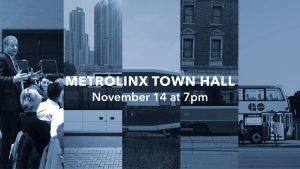 November 01, 2019
What is an Ask Metrolinx Town Hall?
Metrolinx Town Halls are an opportunity to ask Metrolinx leadership about services, transit planning and anything top of mind. While they field your questions at the event, questions can also be submitted online in advance, or during the event via livestream.
They're Coming to Northwest Toronto
Join Metrolinx CEO Phil Verster and their Senior Management Team in-person or online on November 14, at 7PM. Their last four events focused on the Region of Waterloo, the Region of Durham, the Region of York and the Region of Peel.
To register for the event, visit:
www.metrolinxengage.com
Date: November 14, 2019 - 7:00PM to 8:30PM
Location: Northwood Community Centre, 15 Clubhouse Crt. Toronto, ON
For more information about the Ask Metrolinx Town Hall, please contact the Metrolinx Toronto West Community Relations Team at 416-202-6500 or email torontowest@metrolinx.com. You can also visit the community office at 2450 Finch Avenue West.