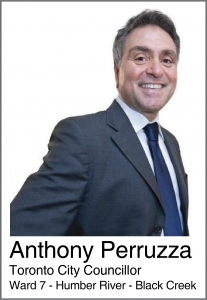 September 01, 2019
Dear Resident,
Summer has always been the perfect time of year to get out and connect with others at our local parks. I was happy to host several Summer Socials this year and would like to highlight a few in particular. The events that took place at Habitant Park, Spenvalley Park, and Verobeach Parkette were a great success. I got to catch up with familiar faces and had the opportunity to meet some new neighbours. Many thanks to all of the residents who came out and participated. It is always a pleasure to speak with you. Your thoughts and feedback are important as we continue to build our community together.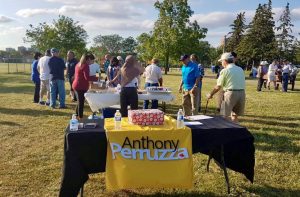 The kids are back in school and there's plenty going on this fall. Black Creek Pioneer Village is hosting a few autumn-themed events with activities fit for families and people of all ages. Please contact my office or go to https://blackcreek.ca/calendar/ for specific dates and details.
You can visit my website: www.anthonyperruzza.com to sign-up to receive my e-newsletter on a biweekly basis. If you're involved with a local, community-based organization, I would like to share your events on my social media platforms and on my website. Please email me at councillor_perruzza@toronto.ca for more information.
Please stay-tuned for updates about local projects and upcoming events in Humber River-Black Creek. As always, my team and I are available to answer any questions that you might have.
Looking forward to seeing you soon!
Sincerely,
Anthony Perruzza