November 1, 2021
We are delighted to welcome home The Dental Group, the newest member of the DUKE Heights BIA.
The Dental Group Open House and Ribbon Cutting Ceremony was held on October 29, 2021, with Toronto City Councillor James Pasternak and Paolo Abate, CEO of Haven Developments as guests of honour. Located in the University Heights Professional and Medical Centre at 1275 Finch Avenue West, The Dental Group boasts a spacious 5,200 sq. ft. modern dental studio in Suite 307 and a walk in office on the ground floor in Suite 109. The Dental Group offers a successful balance of professional and experienced clinical staff specializing in General Dentistry, Hygiene, Endodontics, Periodontists, Orthodontists, Cosmetic and Oral Surgery, and a uniqueness to patient and family dental care and comfort.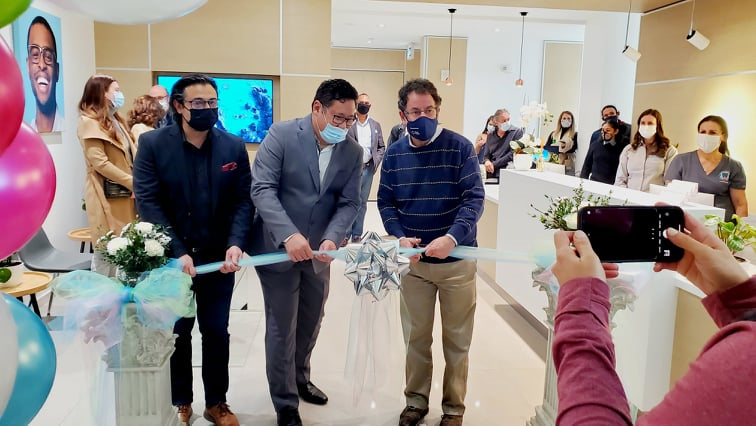 The goal of the dental group is to elevate the patient experience as encapsulated by their slogan: "Say hello to delightful dental care."
According to the CEO, Roberto Lloren, "We have a three-pronged approach to make this happen and it starts with a compassionate and experienced dental team. And to enhance the dental experience we have created a soothing and relaxed modern environment. Aromatherapy and piped in music greet you, making you forget your worries for the day. There is also a brushing station should you want to freshen up prior to your appointment. And more importantly, we believe that what is most important is that dental care should not be episodic but rather a relationship with the patients' and their dental professional."
Book your next dental experience at The Dental Group.
1275 Finch Avenue West, Unit 307
North York, M3J 0L5
Phone: 437-913-9288
Email: info@thedentalgroup.ca
Website: http://thedentalgroup.ca/