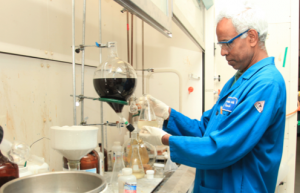 Toronto Research Chemicals has been in the DUKE Heights BIA for over 30 years. The company started in a small unit on Chesswood Drive where David Dime, the company founder, and his brother Charles, first moved into the area. Toronto Research Chemicals, is now on Brisbane Road, and has over 225 employees, 140 of whom either have MScs or PhDs in such areas as chemistry or biochemistry. The company's cutting edge work is very rare and globally significant.
Companies worldwide need chemicals invented for all types of reasons and for every use imaginable. Larry Dime explained to the DUKE Heights team, as he gave us a tour of their facility, that their work is sold in 95 countries. In fact, 95% of the work that they produce is exported. What Toronto Research Chemicals does is to "Invent chemicals on demand for other companies", explained Larry. Whether it be for a perfume, the Olympics, or a major manufacturer, the products created here are not measured in tons, but in grams or millilitres. "Often, we have a truck parked at our facility to deliver or drop off a package for us and it literally only has a small box inside, what we do is very different".
With only a handful of companies in the world competing for the type of research work being produced at Toronto Research Chemicals high tech facility, their products are on demand in all types of industries. Once a product is invented and delivered, it goes into production in factories and labs across the world. Larry Dime states that the company is doing very well. "We are expanding and are planning to double in size in 5 years".
Profile
Name: Toronto Research Chemicals
Number of employees: 225
Year Founded: 1982
Move in date for DUKE Heights: 1984
Find out more: www.dukeheights.ca/explore/listing/shop/toronto-research-chemicals/