[vc_row][vc_column][vc_column_text]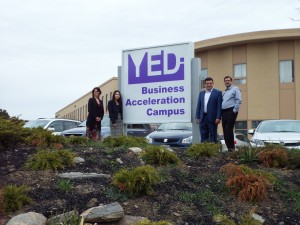 An exciting new employment accelerator is helping dozens of businesses in DUKE Heights. YEDI, which is a free program for entrepreneurs linked to York University's Schulich School of Business, has opened an 80,000 square foot campus on Alness Street. They are ranked as the third business accelerator in North America. As a business accelerator, they provide a space, training and supports for all types
of businesses.
One way YEDI seeks to aid early-stage entrepreneurs, is through a mentorship program called "From Roots to Flowers". The goal of this program is to pair early-stage entrepreneurs, who are enrolled in another YEDI program, with seniors who have retired from the workforce. Doing so allows seniors to remain active and involved in the community, while tapping into their wealth of knowledge and experience, for the next generation of business owners. Part of this program's unique nature, is that they encourage many immigrant entrepreneurs and seniors to become involved as well. This way the program is not limited to those
with an English speaking background.
To participate in or inquire about "From Roots to Flowers" visit: www.yedinstitute.org/senior-mentorship.html or give them a call at 647-919-9334.[/vc_column_text][/vc_column][/vc_row]