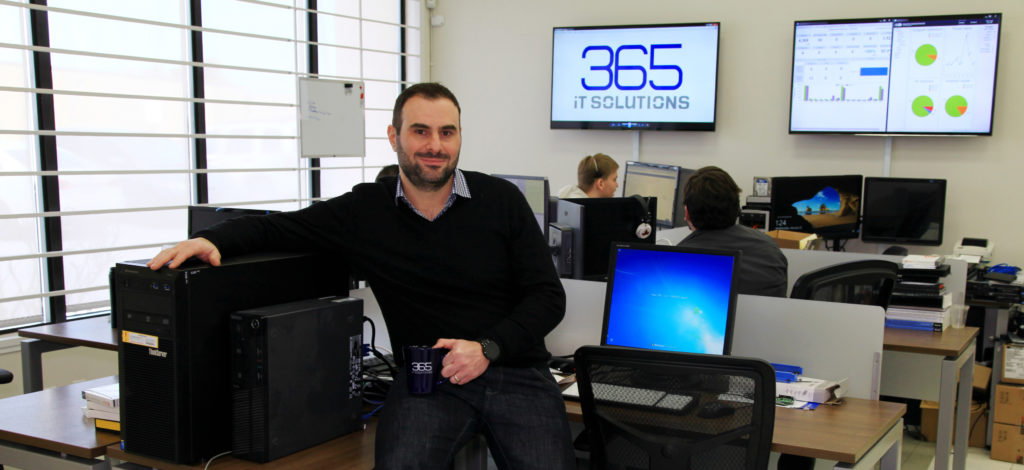 Nearly 14 years ago, Razmig Sagharian opened Computer Source on Chesswood Drive.
Housed in a 1,600 square-foot office space, the local computer retail shop had one employee on the roster: Sagharian himself.
In the years that followed, Computer Source grew as the needs of its clients evolved; growing from a small retail shop to a full-service IT consulting firm now known as 365 iT SOLUTIONS.
And as the needs of its customers and its client base multiplied, 365 iT SOLUTIONS moved locations, first to an office space on Sheppard Avenue West, and now to its current location in Duke Heights. Today, the leading IT consulting boutique firm comprises 12 employees in its new 3,000 square-foot location at 160 Steeprock Drive. The location is ideal, 365 iT's Sales Executive Enzo Logozzo says, as "it gives us central access to downtown core as well as the entire 905 area.
He added, "Duke Heights has a true neighbourhood feel as our client portfolio includes 50% of organizations within the neighbourhood."
Indeed, not only does 365 IT run its operation within the neighbourhood but also owns and operates another commercial property within the neighbourhood to another local business.
On that note, "we see the huge potential in investments properties due to the upcoming changes in Duke Heights," Logozzo said.
Despite its deep roots in the community, the industry leading IT consulting firm has gone international, managing client offices as far as Japan and covering a wide range of clients in its portfolio including manufacturing, construction, professional services, nonprofit, and healthcare to mention just a few. 365 iT offers Managed IT Services, IT Support Services, IT Outsourcing Services, Tech Support Services and Cloud Services.
Find out more at http://365itsolutions.com/
Or view our DUKE Heights Discount here