We are compiling and promoting a list of essential businesses that are open in our area. Our lists currently consists of restaurants, bakeries, cafes, grocery, medical services, pharmacies, car dealerships and auto servicing, professional services like IT support, financial, accounting and legal services that fall under "essential business" categories. We are constantly adding new entries into these lists and also working towards adding the other essential categories. Please feel free to let us know by email at info@dukeheights.ca if we are missing any businesses on the lists that are open to serve customers during this difficult time.
Restaurants, Bakeries and Cafes
Restaurants, bakeries and cafes located in DUKE Heights BIA are continuing to offer take out, delivery and drive-through sales. They desperately need your support in order to survive these tough economic times.
Link to the list: https://dukeheights.ca/shop-local-restaurants-bakeries-and-cafes-are-offering-takeout-delivery-and-drive-through-in-duke-heights-bia/
Many of the clinics and pharmacies located in DUKE Heights BIA are serving patients and customers. Some of the service providers made alternative arrangements to protect our health and safety and support our community better. Contact them for your immediate consultation and health care needs.
Link to the list: https://dukeheights.ca/essential-medical-services-and-pharmacies-are-open-in-duke-heights-bia/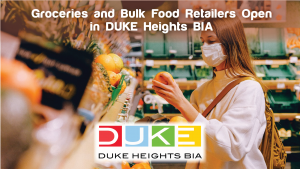 Grocery Stores and Bulk Food Retailers
Groceries and bulk food retailers are among the essential businesses that remain open to serve you right now. Avoid crowding at bigger retail hubs and consider supporting your local businesses who are struggling to survive right now.
Link to the list: https://dukeheights.ca/groceries-and-bulk-food-retailers-open-in-duke-heights-bia/
If you are looking for professional advice on personal and business financial matters that would require personal or business accounting and tax services, asset and liability adjustments, financial planning, etc. or, if you are dealing with legal matters where you need a legal expert's opinion, check out our list of financial and legal service providers from DUKE Heights BIA.
Link to the list: https://dukeheights.ca/financial-and-legal-services-providers-from-duke-heights-bia/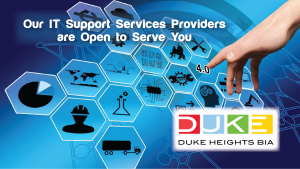 IT Support Services
Planning to transform your enterprise? Getting ready to face your current or future challenges? IT Support Services providers from DUKE Heights BIA can help identify your requirements, create your digital strategy, and build the necessary solutions and integrations to ensure you're your business operations work seamlessly and at scale.
Link to the list: https://dukeheights.ca/it-support-service-providers-open-to-serve-you/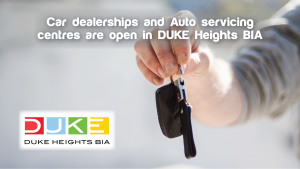 Car dealerships and Auto servicing centres
Car dealerships have started to re-open with COVID-19 restrictions in place. Automotive maintenance and repair services are also available in our area.
Sales are now open by appointment only while they comply with the mandatory safety rules advised by the province.
Link to the list: https://dukeheights.ca/car-dealerships-and-auto-servicing-centres-are-now-open/