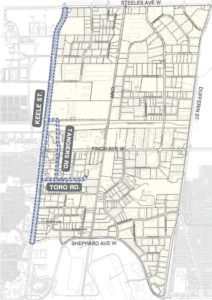 Dear Residents,
I am working with the Duke Heights BIA on a plan to improve and beautify Keele Street especially along the intersections of Broadoaks Dr, Catford Rd, St. Regis Cres, Le Page Ct, Grandravine Dr, Toro Rd and Tangiers Rd.
The proposed improvements include new seating areas, garbage and recycling bins, bike racks, flowering bushes (i.e. lilacs) and many additional trees.
I invite you to join me at this consultation to discuss the proposed improvements to our neighborhood.
where: 30 Tangiers Rd, Unifor Local.
when: September 21st, 2017 at 6:30pm.

CITY OF TORONTO COUNCILLOR
Save