[vc_row][vc_column][vc_column_text]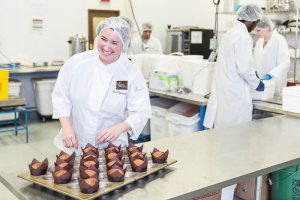 Sweets from the Earth is a family owned business that moved into our BIA in 2012 to continue the expansion of their vegan baking company. This company, which began in 2002 with owner operator Ilana Kadonoff, has grown from her small Toronto apartment to multiple facilities with 45 staff along Canarctic Drive, delivering their products from coast to coast. Indeed, in 2014 & 2015, Sweets from the Earth was named one of Canada's 500 fastest growing companies and Ilana Kadonoff as one of Canada's top female entrepreneurs.
Sweets from the Earth owes much of their expansion to the constant input and suggestions they integrate from customers. Growth can be attributed to not only producing excellent quality vegan desserts, but also to catering to many other dietary restrictions including kosher, nut-free, non-gmo and gluten free foods.
While Sweets from the Earth does not have a traditional store front, they do take direct orders by calling the bakery or you can purchase their renowned desserts at local retailers like Coppa's Fresh Market, Real Canadian Super Store, Second Cup and Café by Kwin.
For more information, please visit their website at https://sweetsfromtheearth.com/[/vc_column_text][/vc_column][/vc_row]