[vc_row][vc_column][vc_column_text]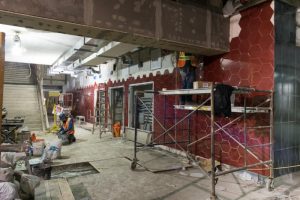 Transit Developments
I'm excited about new developments coming into our area, like the York Spadina subway extension. In the coming months we will be working with Toronto Transit Commission to bring the most current information on their progress to you. So remember to check in with us next month too!
Finch West Station Goes Green
TTC shared with us pictures of the work they are doing at Finch West Station. These pictures are an exciting indication of how close to the end construction is coming, with finishing touches like a beautiful red tile, being put into place.
One of my favorite elements in the design of the Finch West station though, is the green initiative that has been implemented. One of the unique elements of the design will be the use of cool and green roofs. A cool roof is when the roof is built with a high solar reflectivity in order to reduce the heat build up that might normally occur from the thermal energy of the sun. The other type of roofing being used will be green roofing, where portions of the roof will be used to sustain the growth of vegetation helping to conserve both water and energy. For more information about this and other green initiatives in the new subway stations, please visit the TTC website: www.ttc.ca/Spadina
Keele Finch Plus Study - Open House
The Keele Finch Plus study is a study around the future of the Keele and Finch community and how best to best capitalize on the rapid transit developments happening around the community for the benefit of the neighborhood.
The first public meeting will be  an opportunity to learn more about this study and to offer your input on future area improvements. This includes looking into public spaces, architecture,transportation, infrastructure and business growth. The meeting itself will be led by City Planning and will include input and a presence from TTC and Metrolinx.
Open House
June 21st
4:30-8:30 PM
James Cardinal McGuigan School. Cafeteria. 1440 Finch Avenue West (just west of Keele Street).
Free parking. Transit nearby. This location is accessible for persons using mobility devices
New Transportation Survey!
We are working with the Pembina Institute to make transit better in our area. We have received much feedback from local businesses that congestion and lack of transit are serious issues. We are doing a survey to gather more information locally to start working on solutions that will help fix the congestion long term.
We will be sending around representatives with this survey, so be sure to stop and have a chat with them.
Alternatively, you can visit our website later this month and fill the survey out online!
Be The Boss Summer Institute 2016 - Summer Students
Are you looking for students to work in the summer? Would you like a $300 bonus for hiring a student? Skills for Change is working with a number of entrepreneurial young leaders who are exploring their career options and who would love to work for you! Champion a youth today as part of our Be the Boss Summer Institute. Be the BOSS Summer Institute is a leadership, employment and entrepreneurship training program and is in partnership with Duke Heights BIA.
Note, there is no requirement to hire a student. Participating youth may reach out to you looking to schedule a 30 minute interview, as part of our annual Be the Boss: Find the Entrepreneur in You event scheduled for August 12, 2016.
If you have any additional questions or would like to speak with someone about this opportunity, please do not hesitate to contact our campaign organizer, Symone Walters, by email at swalters@skillsforchange.org or call (647) 794-1115.