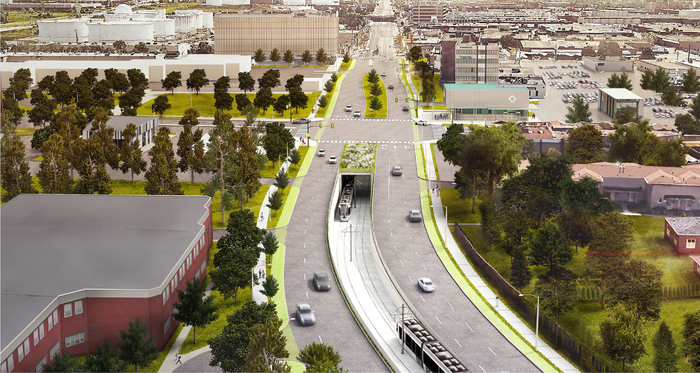 On May 7th, 2018, Infrastructure Ontario (IO) and Metrolinx announced that Mosaic Transit Group (Mosaic) has signed a contract valued at $2.5 billion to design, build, finance and maintain the Finch West Light Rail Transit (LRT) project. Mosaic's successful proposal will deliver the LRT by 2023.
The Alternative Financing and Procurement (AFP) contract, adjusted for inflation, reflects payments during construction, a substantial completion payment and monthly service payments during the 30-year maintenance period.
Mosaic will be responsible to design, build, finance and maintain the 11-kilometre LRT that will run in a semi-exclusive lane along Finch Avenue. This consists of a below-grade terminal stop at Humber College, 16 surface stops, as well as an underground interchange station at Keele Street that connects with the new Finch West Subway Station on the Toronto-York Spadina Subway Extension. The project also includes a maintenance and storage facility for the light rail vehicles and other required components, such as trackworks, signaling, communications, and public infrastructure.
Metrolinx finds Mosaic's proposal to have Metrolinx's Design Excellence principles incorporated for fully accessible and customer-focused stops, upgrades to streetscaping, trail and pedestrian connections and bike lanes.
As part of preparatory work required before construction starts on the Finch West LRT, Metrolinx began early utility works in 2016. With the contract now awarded, Mosaic, their subcontractors and suppliers will mobilize resources to begin construction in fall 2018.
Selection of the proposal was the result of a comprehensive, open, fair and competitive procurement process observed by a third-party fairness advisor.
Note: this is an excerpt from the Infrastructure Ontario news release from May 7, 2018.