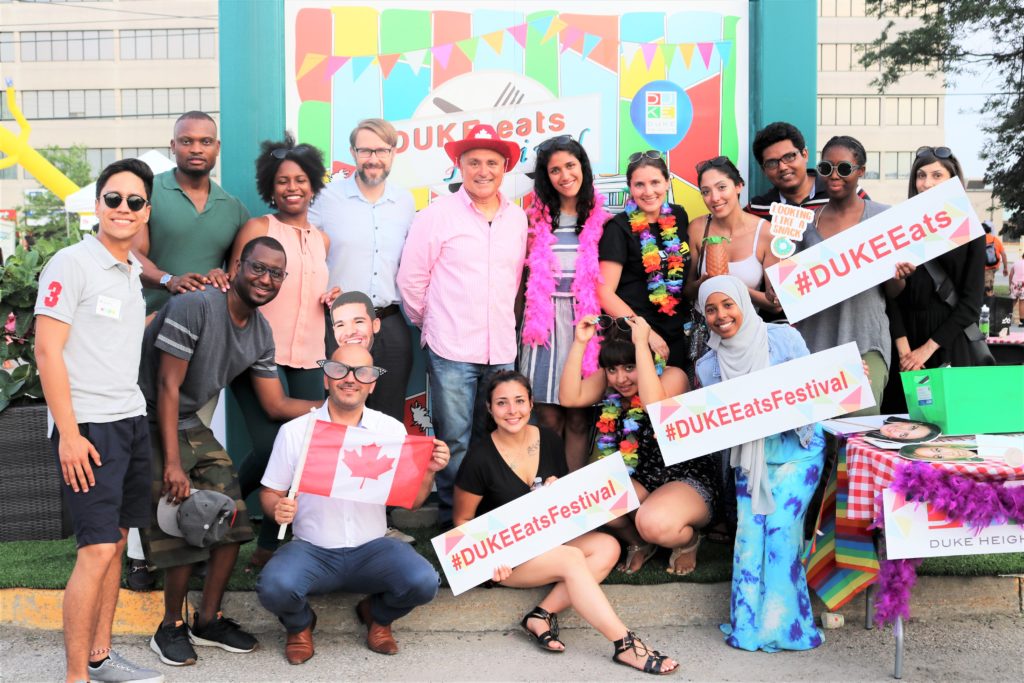 July 01, 2018
On June 30th, 2018 the DUKE Heights BIA hosted its very first outdoor food festival in the parking lot of 1300 Finch Avenue West. The DUKE Eats festival was a smashing success and brought over 1500 community members, families, students, and people from the surrounding areas. DUKE Eats brought in over a dozen local BIA food vendors, organizations and businesses, Indigenous craft vendors and some of Toronto's best food trucks to the DUKE Heights community.
The festival featured Toronto's DJ Budz, Indigenous performer Alisson Pilon, an entertainment zone completed with a bouncy castle, and countless free activities and treats, such as face painting, caricature sketches, popcorn, cotton candy and snow cones, all thanks to the support of Metrolinx and TD bank at Keele and Finch.
In addition to delicious food options, DUKE Heights BIA partnered with the Compost Council of Canada, the Regenesis bike clinic of York University, the Plug n' Drive discovery center and Metrolinx to promote sustainable living and transportation methods. Thanks to the help of these organizations, we were able to provide the public with access to information on sustainable methods of waste disposal, a free bike clinic for minor repairs and tune-ups and information on electric vehicles and the construction of the future Finch West LRT.
The DUKE Eats festival is sure to return next year bigger and better, with more food, fun and excitement for all your friends and family to enjoy in the DUKE Heights BIA!