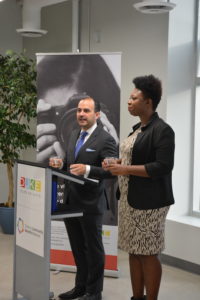 Matias de Dovitiis and Rosemarie Powell, Executive directors of DUKE Heights BIA and Toronto Community Benefits Network
The DUKE Heights BIA and Toronto Community Benefits Network (TCBN) are pleased to announce their strategic partnership and newly joint office space. On October 6, 2017, in celebration of their new and improved space, DUKE Heights and TCBN hosted their Office Opening Event. The occasion featured speeches by City Councillor Anthony Perruzza, Member of Provincial Parliament Michael Levitt and James Lapierre from Toronto Employment and Social Services to name a few. The keynote speech was an address by Lorne Sossin, Dean of Osgoode Hall Law school on the social procurement strategies taking place in the BIA.
The partnership will allow our organizations to collaborate resources, broaden access and increase opportunities for the betterment of the DUKE Heights area and beyond. In line with these initiatives, DUKE Heights and TCBN have combined forces to create the Community Benefits Summit taking place from March 15-16th 2018. This will be the first of many future initiatives that this partnership hopes to bring to fruition.
We are very excited about the new opportunities brought about our joint efforts and look forward to bringing the DUKE and TCBN members the benefits. We welcome the opportunity to speak to you about how we can work together to assist you or your organization.
Matias de Dovitiis                                                           Rosemarie Powell 
Executive Director of DUKE Heights BIA                      Executive Director of TCBN 
(416) 739-1621                                                               (647) 545- 8226
matias@dukeheights.ca                                                rpowell@communitybenefits.ca