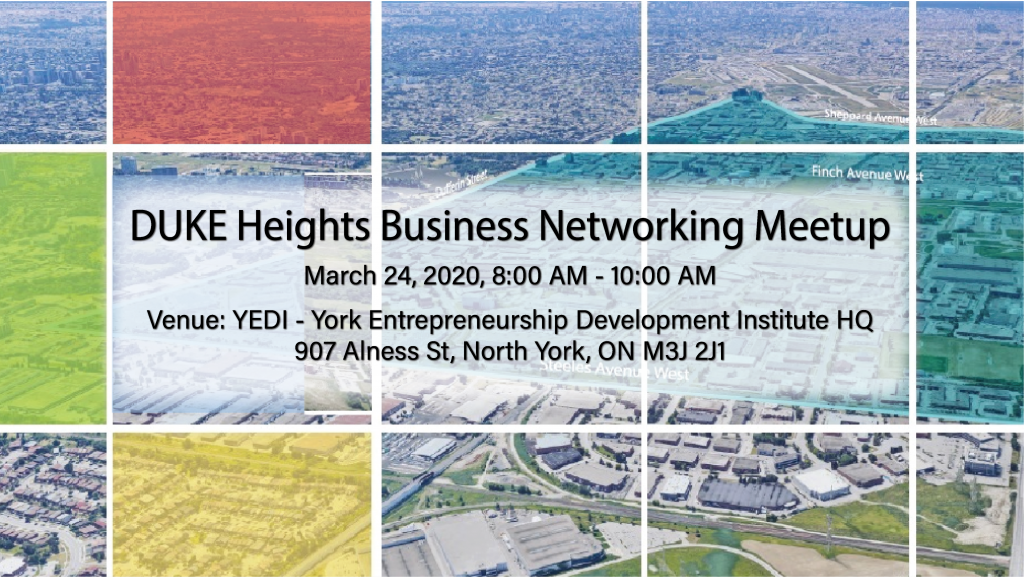 Why Business Networking Events?
At DUKE Heights BIA we believe in the power of building connections, which essentially means connecting people with people, people with ideas, and people with opportunities.
If you are someone who thinks that pursuing opportunities to connect with industry leaders or professionals with varying skills, interests and perspectives is critical to your own business growth, this event is for you.
Through our meetups and networking sessions we encourage good quality referrals among the participants. Our goal is to help members improve workflow and grow their business. Our members and guests come from a wide variety of businesses and we enjoy a friendly, helpful atmosphere at our meetings, where those attending can benefit from one another's experience and expertise.
Next Business Networking Event
Date & Time:
March 24, 2020, 8 AM – 10 AM
Venue:
YEDI - York Entrepreneurship Development Institute HQ
907 Alness St, North York, ON M3J 2J1
Topics:
Simple Ways to get your BOOK ready for your business/corporate filings and Tips on minimizing Your Business/Corporate Tax
Small Business Survival and Growth strategies – how to fight low-cost competitors
Speakers:
Thomas Tang, Partner at Tang & Partners LLP
Atul Oka, Senior Director of Strategy and Business Development, DUKE Heights BIA
What can you expect?
Interactive presentations on business topics by business people
Hands-on insights and ideas that you can immediately apply to your business
Networking – make valuable connections
Freshly served breakfast & free parking
Interested in attending? Sign up on Eventbrite. It's FREE! https://www.eventbrite.ca/e/duke-heights-business-networking-event-march-24-2020-tickets-97850197575.
Let us know your thoughts at business@dukeheights.ca, or, join DUKE Heights Business Hub Meetup Group (https://www.meetup.com/DUKE-Heights-Business-Hub-Meetup-Group/) so we can keep you updated.