The City of Toronto invites local businesses who depend on commercial shipping and freight delivery to participate in this workshop to discuss ways to improve commercial shipping and freight transportation in the Finch West area of Toronto.
Background and Objectives
Over the next four years, Metrolinx will be constructing a new light rail transit (LRT) line on Finch Avenue West from Highway 27 to Keele Street. The LRT will require some permanent changes to the road network, and will affect traffic patterns and potential truck route options.
The City is developing the Finch West Goods Movement Transportation Master Plan (TMP) to consider the LRT related changes, as well as to recommend other opportunities to provide for safe, efficient, and effective transportation of freight in the area. More information is provided in the attached backgrounder.
A consultant team led by Wood (woodplc.com) and CPCS (cpcs.ca) is supporting the City's completion of the study and will facilitate the workshop. The workshop is being held early in the project to seek the input of local businesses that depend on commercial shipping and freight delivery, to understand your transportation needs and to discuss issues and solutions in a small-group setting among your peers.
Agenda (Tentative)
April 11, 2019
08:30 – 09:00 AM
Registration and Light Breakfast
09:00 – 09:40 AM
Introductory Remarks and Consultant Presentation
09:45 – 10:30 AM
Small Group Discussions (Round 1) – Trends and Needs
10:30 – 11:15 AM
Small Group Discussions (Round 2) – Issues and Solutions
11:15 – 11:30 AM
Closing Remarks
Study team will be available for follow-up discussion after the workshop (optional)
Venue Details
Julius Banquet Centre
2201 Finch Avenue West
Toronto, ON, M9M 2Y9
Free parking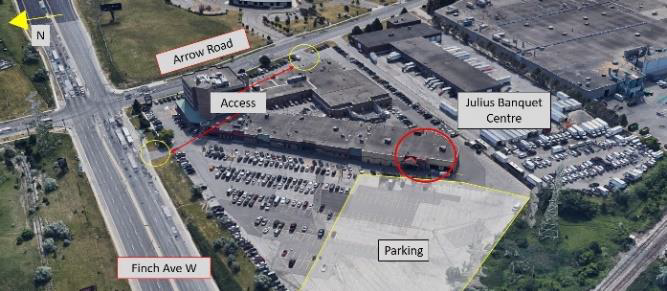 RSVP
Please register to attend this workshop using the online form:
https://finch-west-goods-movement-workshop.eventbrite.ca
or, through the contacts below.
If you have any further questions, please do not hesitate to contact the team.
| | |
| --- | --- |
| City of Toronto Project Manager | Consultant Team Project Manager |
| Edward Presta | John McGill |
| Major Projects Unit, Transportation Services | Principal, Transportation Planning |
| Edward.presta@toronto.ca, (416) 338-6582 | John.mcgill@woodplc.com, (905) 330-9569 |
---
Find the background information for the Finch West Goods Movement Stakeholder Workshop here: