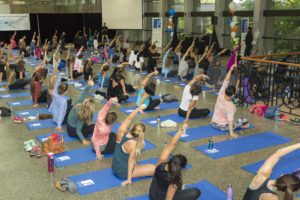 Feel the stretch on October 22 at Griffin Centre Mental Health Services family-friendly EMBODY YOGA presented by Celestica fundraising event! Providing three, 30 minute sessions of different yoga styles accessible to all individuals, a light breakfast and yoga sessions for children, EMBODY YOGA presented by Celestica will leave its guests feeling energized and full of Zen!
Griffin Centre is a non-profit, charitable, mental health agency providing essential services to youth, adults and their families. We aim to help our clients recognize their strengths, achieve their goals and improve their lives.
Funds raised at EMBODY YOGA presented by Celestica will support Griffin Centre's programs and services for youth and adults with complex mental health challenges and/or developmental disabilities.
Together, let us calm our minds, increase our flexibility, center our thoughts and raise funds for Griffin Centre!
Register or donate today at: griffincentre.org/yoga
To learn more about Griffin Centre, visit us at www.griffincentre.org or follow us on Facebook!