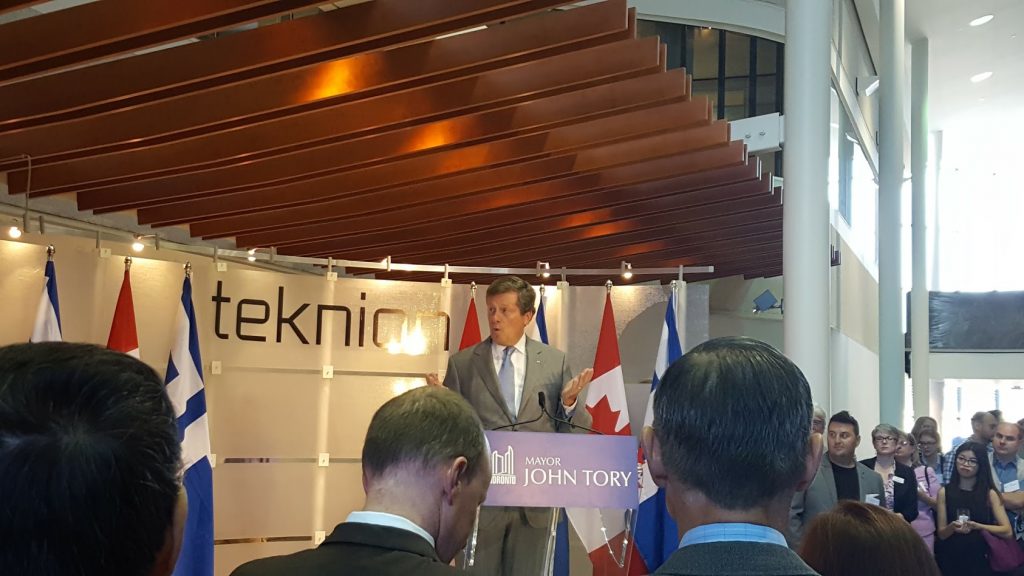 On September 13th Teknion hosted Mayor John Tory's Economic Update Breakfast. Here at DUKE Heights, we were very proud to be the community hosting the mayor as he emphasized the importance of manufacturing in the Toronto economy. This is something that we know very well in DUKE Heights, where manufacturing is our 2nd largest source of employment. Our members produce everything from pharmaceuticals to furniture to food, and the mayor's update emphasized the great products that come out of our community.
Having Teknion host the Mayor's Breakfast gave an excellent example to the media, and the city at large, of how high tech, versatile and modern, manufacturing has become. Teknion allowed the mayor's guests to tour their showroom, giving an example of the type of quality products that are produced by Canadian manufacturers.
Overall Mayor Tory's visit was an excellent opportunity for DUKE Heights to emphasize our importance and lasting presence in the greater economy of the GTA. We are home to over 2,500 businesses and over 30,000 employees, making us an employment area that is significant
in size and potential.
I would like to thank all of our members who came out to participate at The Mayor's Economic Update Breakfast. Though all of the North York BIA's were invited, DUKE Heights had the best representation at this event. We would also like to thank Mayor Tory for coming out and his great message, Teknion for their gracious hosting of the event and to the Economic Development Committee for their organization of the event.