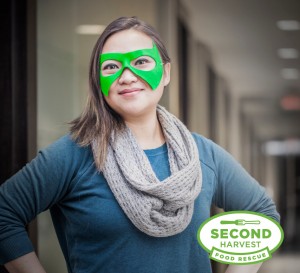 For over 30 years, Second Harvest has been connecting fresh, surplus food otherwise destined for landfill, with people experiencing hunger in Toronto.
Last year, through its network of 220 social service agencies, Second Harvest delivered food for 8.2 million meals to Toronto's most vulnerable populations, including children in after-school programs, women escaping domestic abuse, and newcomers to Canada. Here in the Duke Heights neighbourhood, two programs receive regular food donations, saving the agencies money and nourishing their participants.
Second Harvest's food rescue program is only possible with the support of our community. The Second Harvest Hero workplace fundraising campaign is one way businesses can get involved. This year, almost 150 organizations across the GTA are running fundraisers in their workplaces and schools to raise awareness and donations so Second Harvest can deliver surplus food to those experiencing hunger in our city.
Working with Duke Heights BIA to raise awareness about food rescue, Second Harvest aims to involve local organizations to help feed hungry people. For every dollar donated, Second Harvest provides food for two healthy meals to our neighbours in need.
To learn more about how your company can run a Hero campaign or donate to Second Harvest, visit secondharvesthero.ca