Helping Businesses Hire The Right People.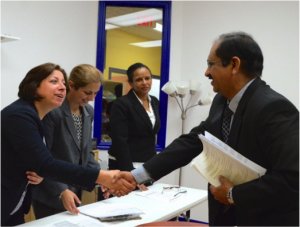 Skills for Change Employment Ontario offers FREE Corporate Recruitment Services. They help businesses compete in the increasingly global marketplace by recruiting from a diverse pool of candidates with international perspectives and connections. They work with businesses to understand their specific needs and then pre-screen and refer a list of candidates that are most qualified for each business. The final interview process and ultimate hiring decision always belongs to the business.
Benefits of working with Skills for Change: 
Unlimited Job Postings
Financial Incentives to recruit new talent and/or train existing employees (i.e. Test to Hire; Work Experience Placements; Apprentice Completion Bonus and Canada-Ontario Job Grant)
 Access to their database of 1000+ of highly skilled, qualified & motivated candidates
Training placements (internships) with no obligation to hire at the end of the placement
Employee transition servicesand support
Meeting space to conduct interviews and job fairs from any of their locations in the GTA
Local labour market information, research and best practices on diversity and inclusion
Professional and leadership development through structured mentoring programs
Recognition at their annual signature events including the Business Leadership Awards 
Their Business Relations Specialist Mulugeta Metaferia will be pleased to meet with you to discuss in greater detail how Skills for Change can meet your needs. Together, they can develop a customised plan to move forward.
Contact Mulugeta at: 
(416) 645-2489 x 208  or email bia@skillsforchange.org today!