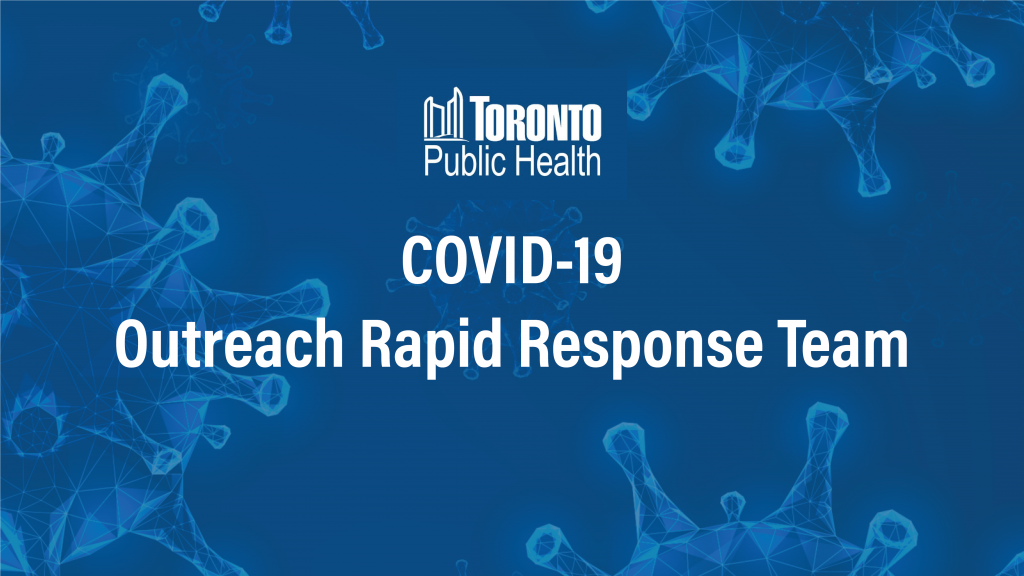 Toronto Public Health (TPH) has launched a new temporary COVID-19 Outreach Rapid Response Team (CORRT). The purpose of this team is to:
Increase resident awareness of accurate COVID-19 prevention and testing information among disproportionately impacted communities
Develop the health promotion capacity of community agencies to provide COVID-19 prevention messages
Expand resident knowledge of local community resources available to support residents that are most adversely impacted by the pandemic
Multi-lingual Outreach Workers will provide information sessions about COVID-19 to residents both online and in-person. These sessions will focus on how businesses can keep themselves, their families, and the community safe. In addition to these presentations, outreach staff will conduct direct outreach in neighbourhoods most impacted by the pandemic.
CORRT is operating on a time-limited basis until the end of 2020, with a possible extension into part of 2021.
Should you have any questions or if you would like to request a COVID19 information session, please feel free to contact us at info@dukeheights.ca, or reach out to Huguette Jean-Simon, COVID-19 Outreach Worker from C-19 Outreach Rapid Response Team, Toronto Public Health. Email: Huguette.Jean-Simon@toronto.ca.
Please find below a letter from Domenico Calla, Manager, COVID-19 Liaison Team, Toronto Public Health, providing details of the services.