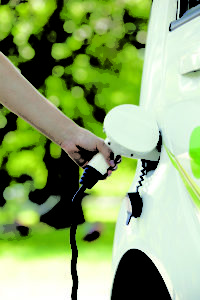 Plug'n Drive is pleased to bring the World's First Electric Vehicle Discovery Centre (EVDC) to DUKE Heights! In partnership with the Province of Ontario, TD Bank, Ontario Power Generation and the Power Workers Union, the Electric Vehicle Discovery Centre will offer unparalleled consumer, business and employee experiences.  Plug'n Drive's goal is to accelerate the adoption of electric vehicles by educating the public about the environmental and economic benefits of driving electric.
At the EVDC, you will find a wide selection of electric vehicle models from leading manufacturers on showcase and available for test drive alongside interactive educational digital displays, EV charging stations, energy storage and smart grid solutions. The EVDC can also be reserved for company parties, employee engagement seminars, training sessions and stakeholder meetings.
Located at 1126 Finch Avenue West (just west of Dufferin), the EVDC is your one-stop destination to learn more about electric vehicles and the electricity sector that powers them. 
We look forward to meeting our new neighbours and invite you to attend one of our "advance opening" receptions on April 20th or April 27th. Please register via Eventbrite.
For more information about Plug'n Drive and the EVDC, you can visit plugndrive.ca or contact info@plugndrive.ca or 647-717-6941. 
Electrify Your Ride!