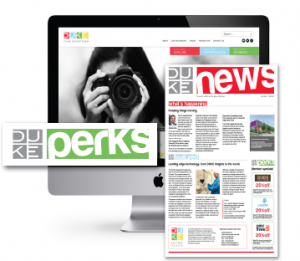 DUKE Heights is an association of businesses, and one of the biggest in Toronto. As part of our mandate, we are looking to make things better for businesses locally. We have over 2,500 businesses and over 30,000 employees. DUKE Heights is like a small city of businesses and entrepreneurs and we are working to make the BIA more prosperous.
One of our programs called DUKE Perks, is exclusively available to DUKE Heights businesses. This program is designed to help encourage local members do business with each other. With DUKE Perks, businesses can take advantage of services provided by other DUKE Heights businesses at a discount. You can tap into this powerful local market by providing your product or service at a special price to the BIA members and their employees. Take advantage of the various Perks provided here, or provide your product or service as a Perk. Get discounted custom shirts, discounted printing, discounted furniture and much more.
As a DUKE Heights business you can also offer your services to other businesses. It is easy. Fill out the form online and we will promote your discount to other businesses and their employees. Want to know if you qualify, see what discounts are available or find out more? Go to our webpage for more details: dukeheights.ca/perks
This my neighbourhood. I work here and I live here. Every month I will be giving you news and information to help you and your neighbours keep in touch with what is new and important. We hope you follow us as we continue to build on the work that will make this area better.
Here is what is new:
IBI Group completes study for DUKE Heights and the City of Toronto
We partnered with the City of Toronto's Economic Development Department to issue a study that analyzed the history and future of employment in our district. The study took 8 months and is now completed. There are a series of recommendations that the study includes that we think will have a deep impact on the development of the area. We are working to create employment in the BIA and we are now headed in a clear, strong direction.
We also welcome your feedback. 
Please go to our website to take a look at the study: www.dukeheights.ca/opportunities/area-development