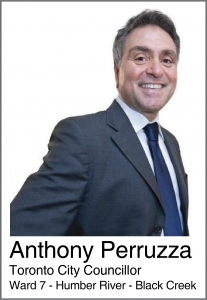 March 03, 2021
Dear Resident,
With the current stay-at-home order in place, we need to try our best to prevent exposure by staying in as much as possible. We should only be socializing with those we live with and making essential supply trips when necessary. We need to take this measure seriously.
I worked with the Board of Health to ensure that we continue to schedule more COVID-19 pop-up testing opportunities throughout Humber River-Black Creek. These clinics will be readily available to support individuals and families in our area. For updates, please follow me on Facebook @AnthonyPerruzza, Twitter @PerruzzaTO, Instagram @Perruzza_TO, or subscribe to my regular e-newsletter updates online by visiting my website.
Please visit the Ontario Government's website for the most up-to-date information on COVID-19 https://news.ontario.ca/en. The City of Toronto will continue to circulate details about the evolving provincial guidelines specific to our region and vaccination updates specific to our city. https://www.toronto.ca/home/covid-19/
City's Broadband Internet Plan – ConnectTO:
City Council approved the ConnectTO plan at a recent meeting to build a high-speed broadband network throughout Toronto. Access to affordable and reliable internet is essential, especially during a pandemic. Allocating funding to boost this measure is a critical part of the City of Toronto's strategy to uplift communities like ours. No one should be left behind. Stay tuned for more updates on this process.
Outdoor Skating Rinks:
While many activities are limited or restricted due to the pandemic, you and your family can register online to reserve skating time on an outdoor ice rink. Please visit www.toronto.ca/skate for more details. Lace-up those skates and enjoy some safe exercise.
Winter Weather Reminder – Frozen Pipes:
Cold weather can cause your pipes to freeze, resulting in no water and potential damages. Take steps to protect your pipes from freezing by reading Toronto Water's recommendations online. For tips and news about the City of Toronto's services during the winter, please visit www.toronto.ca. If you have any concerns or need access to resources, please contact 311 Toronto or my office for follow-up. We are here to help you.
Sincerely,
City Councillor Anthony Perruzza
Ward 7 – Humber River-Black Creek