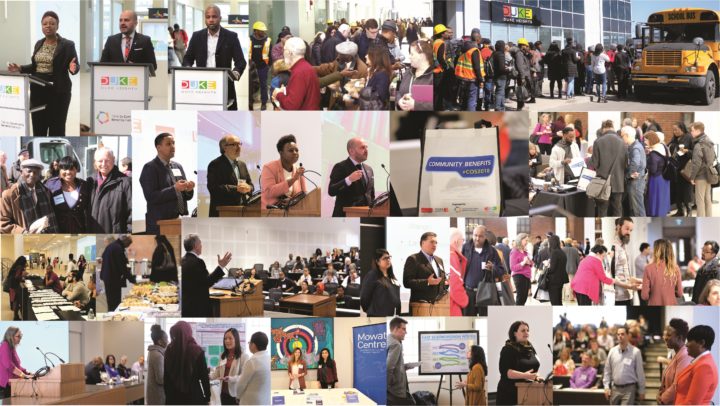 Celebrating Community Empowerment and Growing the Movement
This year's Creating Opportunities Summit was a packed, two-day event and a great success! Osgoode Hall Law school, Toronto Community Benefits Network (TCBN), and DUKE Heights Business Improvement Association (BIA) collaborated to organize the summit to promote Community Benefits Agreements (CBAs) and better access to jobs and opportunities.
As part to the 2-day event, community members and leaders got to participate in a free 90-minute bus tour that provided an overview of the Finch LRT project, promoting opportunities for community benefits through its construction.
The evening featured Ratna Omdivar, Canadian Senator and founder of the Global Diversity Exchange at the Ted Rogers School of Management. A longtime leader in the struggle for social justice, Ratna delivered the keynote during Friday night's celebration dinner where she expressed her support for CBA's.
The second day of the conference featured the City of Hamilton Councillor and staunch advocate for Community Benefits and social justice policies, Matthew Green.
The conference provided the local politicians, union representatives, community members and advocates for community benefits with a platform to collaborate and grow together.
As Rosemarie Powell, the Executive Director of Toronto Community Benefits Network puts it best, "the only way to achieve our goals is through ongoing collaboration, hard work, and a commitment to the Community Benefits Agreement model".