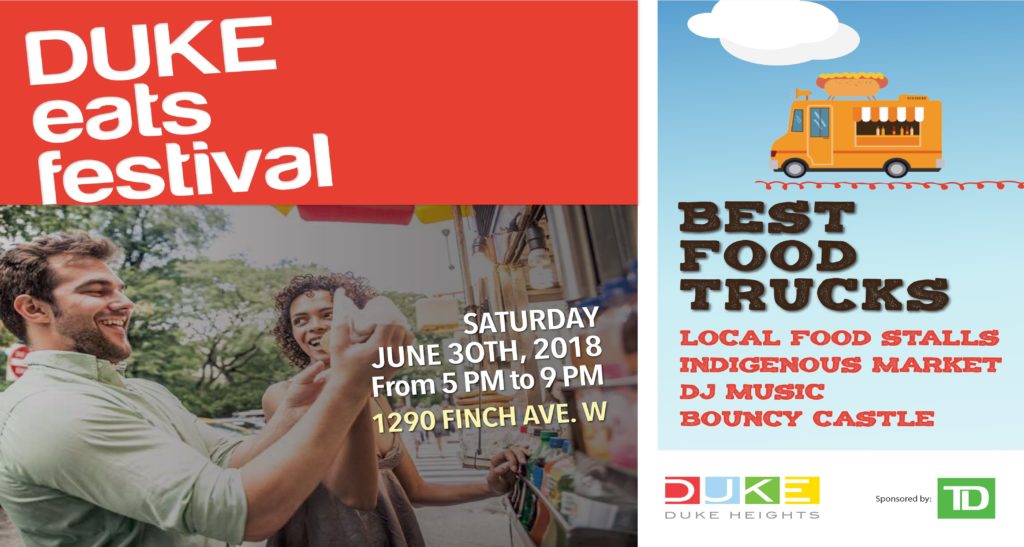 DUKE Heights BIA is home to over 2,500 businesses with 30,000 employees and multiple employment sectors, one of which is the thriving food manufacturing sector. Our food sector is the best-connected food manufacturing hub in the GTA and the industry generates $306 million in annual revenue, making it one of the top grossing sectors in our BIA.
The BIA is organizing its first outdoor food festival to provide a platform for our growing and successful food manufacturer and vendors. DUKE Eats festival debuts with a promise to provide a platform for the food manufacturers and retailers, showcase our rich and thriving food sector, and promote diversity and cultural inclusion in our BIA.
The inaugural DUKE Eats Festival will be held this summer on June 30th, 2018 at 1290 Finch Avenue West, located at the North-East corner of Keele and Finch, right across from Finch West Subway Station providing easy access for food lovers in the city. The festival highlights the most sought-after Toronto food trucks, neighborhood eateries, an indigenous market, live music and entertainment for kids.
In line with our mandates for social consciousness and environmentally sound practices, the event will also feature a free bike clinic for minor repairs and tune ups, the Plug n' Drive Electric Vehicle Discovery Centre and more.
When: June 30th, 2018, 5 PM to 9 PM
Where: Keele & Finch Commercial Centre parking lot (1290 Finch Avenue West)
Contact us to learn more about sponsorship and volunteering opportunities. Send your queries to events@dukeheights.ca.