October 01, 2019
Last month we showed you how to secure $2500 in funding to grow your business with a Provincial grant which has no payback requirement. You can read more here.
Today we look at how a small business many of us may know, was able to use the grant to transform their brand and create a comprehensive growth strategy for the next 12 months.
The "Big Slice" has been serving Toronto with Italian food for close to 40 years. The founder Giuseppe Luciano helped pioneer the selling of pizza by-the-slice!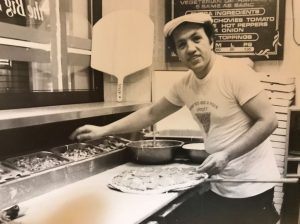 They opened a second location a couple years ago and needed help to boost sales at both locations. Guiseppe's son Sebastiano secured the grant and put the money towards a new brand and website that both locations could benefit from. You can see it here.
In addition, they were able to develop a strategy to-
grow their reputation and ratings on google (already working);
develop 2 types of easy-to-make content to engage their customers;
develop a strategy to double their most profitable revenue stream;
develop a 52-week brand strategy to grow their loyal customer base.
They were able to do all this with a financial boost from the grant, which is still available to businesses like yours, regardless of which industry you're in.
If you think your business needs a new website, brand or digital strategy, please fill out the form below.  We'll put you in touch with an expert that can show you how to secure the grant, as well as grow your brand and business.
[maxbutton id="6" ]