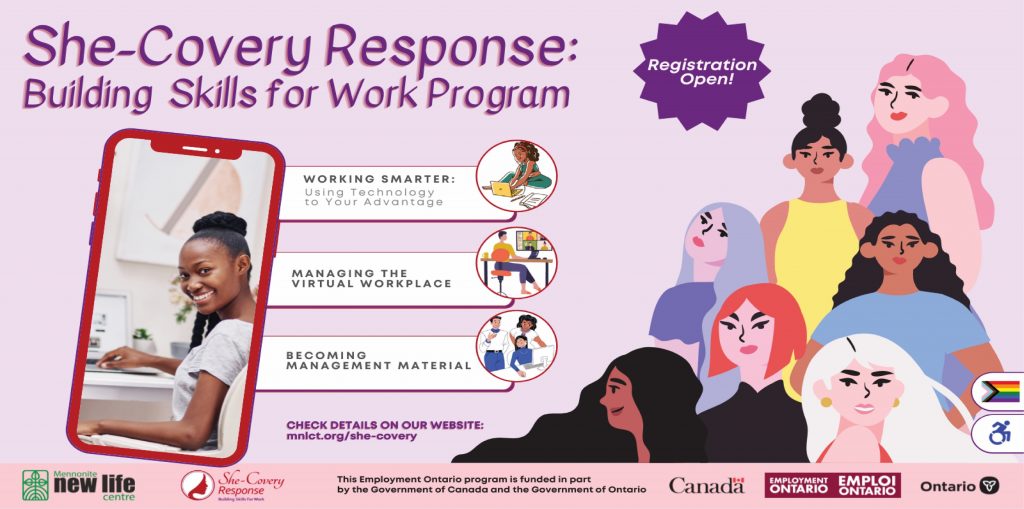 September 1, 2021
The Mennonite New Life Centre of Toronto has introduced their new program She-Covery Response: Building Skills for Work.
MNLCT is committed to support those facing structural and systemic barriers. They are offering help and resources to women, who have lost their employment due to COVID-19.
The She-Covery Response: Building Skills for Work program helps to transition racialized and marginalized women from unemployment or underemployment conditions into labour market opportunities.
This is accomplished by providing them the following services:
Mental health support from a social justice perspective – career and training focused
Training in essential employability skills – upskilling and re-skilling
Advanced employability skills trainings – upskilling
Direct referrals to Employment Ontario agencies and other resources available – employment support
The program also aims at building lasting partnerships with employers, who are looking to get their business back post-pandemic and would like to benefit from this free program designed for women in the workforce.
How can employers save costs and time by partnering with the program?
Employers can identify and refer their current employees, women who need reskilling or upskilling so they can employ them further, which could save them the costs of the training.
They can send previous employees, women who they had to lay off due to COVID-19 but after reskilling or upskilling they would like to rehire, which saves the costs of recruitment.
They also get the access to a pool of talented women, who worked on their skill set and confidence, consciously built up their employability status and value on the labour market and are ready to step up and start a new job. Employers will be connected to our participants through Employment Ontario agencies.
All MNLCT services are free of charge but only for a limited time.
Visit the Program website: